Quasquicentennial Organizers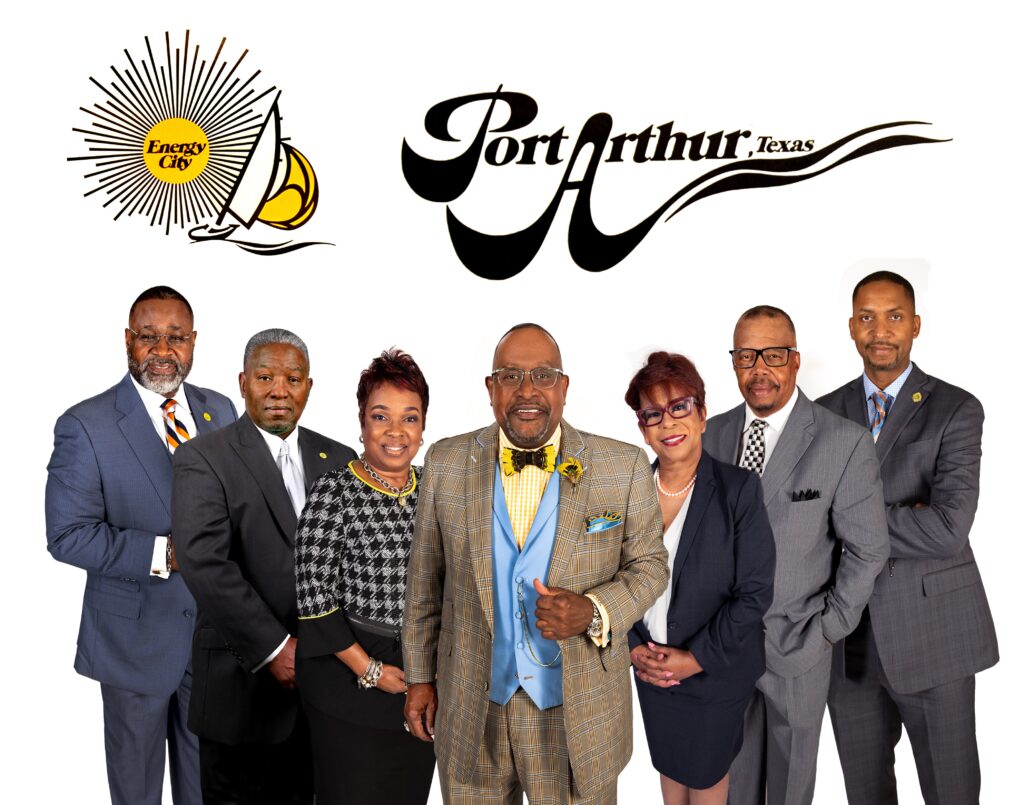 Port Arthur City Council and Mayor
Port Arthur, Texas was founded in 1895 by Arthur Stilwell, and was incorporated as a city in 1898, soon after becoming a seaport. Over the past 125 years there have been huge changes and during that time, leadership in government, industry, business, and education have ensured the City's continued success.
In preparation for the City's 125th Anniversary (Quasquicentennial), a committee of Port Arthur community leaders have come together to plan and execute a proper celebration.
Members of the 2023 Port Arthur City Council, pictured, are, from left, Position 8 At-Large Representative Donald Frank Sr., District 4 Representative Kenneth Marks, Position 7 At-Large Representative Charlotte Moses, Mayor Thurman "Bill" Bartie, District 1 Representative and Mayor Pro-Tem Ingrid Holmes, District 2 Representative Cal J. Jones, and District 3 Representative Thomas Kinlaw III.
Here is the decennial census for Port Arthur, Texas to the start of the 20th Century.
| Census | Pop. | %± | Census | Pop. | %± |
| --- | --- | --- | --- | --- | --- |
| 1900 | 900 | — | 1970 | 57,371 | −14.0% |
| 1910 | 7,663 | 751.4% | 1980 | 61,251 | 6.8% |
| 1920 | 22,251 | 190.4% | 1990 | 58,724 | −4.1% |
| 1930 | 50,902 | 128.8% | 2000 | 57,755 | −1.7% |
| 1940 | 46,140 | −9.4% | 2010 | 53,818 | −6.8% |
| 1950 | 57,530 | 24.7% | 2020 | 56,039 | 4.1% |
| 1960 | 66,676 | 15.9% | | | |
Quasquicentennial Committee of the Greater Port Arthur Chamber of Commerce
Pat Avery, Greater Port Arthur Chamber of Commerce
Dr. Sam Monroe, Port Arthur Historical Society
Tom Neal, Museum of the Gulf Coast
Dr. Albert Thigpen, City of Port Arthur
Verna Rutherford, Business and Community Leader
Thurman Bartie, Mayor of City of Port Arthur, Ex Officio
Ron Burton, City Manager of City of Port Arthur, Ex Officio
Dr. Mark Porterie, Chair of Education
Dr. Betty Reynard, Vice Chair of Education
Zulema Escobeda, Chair of Events
Dr. Lawanda Finney, Vice Chair of Events
Jeff Hayes, Chair of Fundraising
Randy Sonnier, Vice Chair of Fundraising
Stuart Slater, Chair of Historical
Rachel Scott, Vice Chair of Historical
Joe Johnson, Chair of Legacy
Tammy Kotzur, Chair of Publicity
Cheryl Gibbs, Vice Chair of Publicity
Kaala Jacobs, Chair of Youth/Young Adults
Elaina Escobeda, Vice Chair of Youth/Young Adults
Deborah Asbury-Scott, Historical Advisor
Doreen Badeaux, Publicity
Chris Bates, Education
Kelsey Borza, Publicity
Beatrice Branch, Historical Advisor
John Comeaux, Historical Advisor
Gerry Dickert, Publicity
Sharita Gardner, Publicity
Dr. Melvin Getwood, Education
Taylor Getwood, Education
Becky Guidry, Memorabilia
Tiffany Hamilton, Events
Cheryl Harper, Events
V.J. Harper, Historical Advisor
Kristi Heid, Education
Jacqueline Hernandez, Events
Jayven Jean-Louis, Education
Larry Kelley, Historical Advisor
Ed Kestler, Publicity
Mary Latham, Historical Advisor
Leslie McMahen, Historical Advisor
Annette Mitchell, Historical Advisor
Bob Morgan, Historical Advisor
Carl Parker, Historical Advisor
Gail Pellum, Historical Advisor
Dr. Charles Prince, Education
Adam Saunders, Historical Advisor
Carolyn Thibodeaux, Education
Thomasene Thomas, Education
Wanda Thompson, Education
Earl Tizeno, Historical Advisor
Huy Tran, Historical Advisor
Nuong Tran, Historical Advisor
Brenda Vaughn, Education
Dwight Wagner, Education
Steven Williams, Historical Advisor
Kimberly Wycoff-Johnson, Education
Mary Wycoff, Events